All these potteries are made in the respect of the manufacture of traditional Savoyard pottery.
The father and son potters are inspired by the decorations, shapes and colors of the past. Their know-how is authentic and we find love for their job through their works.
The mastery of the gesture allows them to realize patterns, shapes and decors.
By visiting us at the store you will be able to appreciate their work which is of remarkable finesse and very high quality.
We offer you a wide choice of their manufacture of unique pieces!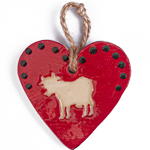 POTTERY FROM FATHER TO SON!
An expert know-how in the glazed earth well transmitted for our greatest happiness.