Large collection, always with the same patterns and in assorted colors. Dress your tables with salad bowls, dishes, pots, bowls, etc.
Our potters make traditional handcrafted products, the enamel drips come from a manual soaking perfectly done and imperfectly shaped by hand. This brings out totally unique pieces.
The potters create their colors in their workshops and their earth is the mixture of several clays. The resulting white earth is of high quality and has the characteristics of a glazed earth (slow and heart cooking).
These traditional pottery have the ability to go through the dishwasher and microwave.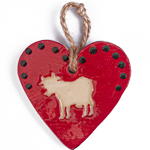 COMPLETE YOUR COLLECTION!
Thanks to patterns and colors always in agreement you can mix your assortments.